Contributions like articles, book reviews, book abstracts, etc. are welcome from Library Members, Bhavan's staff, and friends and supporters of the Library.
---
Personalities: Lokmanya Bal Gangadhar Tilak
by Smt. Anjali Ambekar
---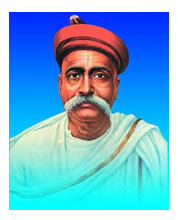 Bal Gangadhar Tilak, was an nationalist, social reformer and freedom fighter who was the first popular leader of the Indian Independence Movement. Tilak sparked the fire for complete independence in Indian consciousness, and is considered the father of Indian unrest. "Swaraj is my birthright, and I shall have it!" This famous quote of his is very popular and well-remembered in India even today. Reverently addressed as Lokmanya (Beloved of the People), Tilak was a scholar of Indian history, Sanskrit, Hinduism, mathematics and astronomy. Early Life: He was born on July 23, 1856, in a village in Ratnagiri district, Maharashtra, into a middle class Hindu family. Tilak was an avid student with a special aptitude for mathematics. He was among India's first generation of youth to receive a modern, college education. After graduation, Tilak began teaching mathematics in a private school in Pune and later became a journalist. Political Career: Lokmanya Tilak was a brilliant politician as well as a profound scholar who believed that independence is the foremost necessity for the well being of a nation and that to win it through extreme measures should not be dispensed with. He was the first intellectual leader to understand the importance of mass support and subsequently became the first mass leader of India. Bal Gangadhar Tilak joined the Indian National Congress in 1890, but soon fell into opposition of its liberal-moderate attitude towards the fight for self-government. He was a member of the Municipal Council of Pune, Bombay Legislature, and an elected 'Fellow' of the Bombay University. He believed that every Indian had to be taught about Indian culture and national ideals. Along with his classmates great social reformer Agarkar and Vishnushastry Chiplunkar, Bal Gangadhar Tilak founded "Deccan Education Society" to impart quality education to Indian youth. The very next year after the Deccan Education Society was founded, Tilak started two weeklies, 'Kesari' and 'Maratha'. 'Kesari' was Marathi weekly while 'Maratha' was English weekly. Soon both the newspapers became very popular. In his newspapers, Tilak highlighted the plight of Indians. He gave a vivid picture of the people's sufferings and of actual happenings. Tilak called upon every Indian to fight for his right. Bal Gangadhar Tilak used fiery language to arouse the sleeping Indians. In 1897, Lokmanya Tilak was charged with writing articles instigating people to rise against the government and to break the laws and disturb the peace. He was sentenced to rigorous imprisonment for one and a half year. Tilak was released in 1898. After his release, Tilak launched Swadeshi Movement. A big 'Swadeshi Market' was opened in front of Tilak's house. He inspired the youth to set for 'bone-fire' of foreign goods. Philosophical and Social Contribution: Although he was basically a proponent of Advaita Vedanta, he differed from the classical Advaitin view that knowledge alone brings release. Tilak added a measure of karma yoga (the yoga of activity) to this, not as subordinate to Gyan yoga, but as equal and complementary to it. Bal Gangadhar Tilak proposed various social reforms, such as a minimum age for marriage, and was especially keen to see a prohibition placed on the sale of alcohol. His thoughts on education and Indian political life have remained highly influential. He was the first Congress leader to suggest that Hindi, written in the Devanagari script, should be accepted as the sole national language of India, a policy that was later strongly endorsed by Mahatma Gandhi. The usage of Hindi (and other Indian languages) has been reinforced and widely encouraged since the days of the British Raj, and Tilak's legacy is often credited with this resurgence. Another of the major contributions relates to the propagation of two Sarvajanik (public) festivals. One festival is of Lord Ganesh and another festival is Shiv Jayanti, which even today exist in India. In these festivals patriotic songs were sung. It was a platform established for political awakening through religious and cultural events. Later Years and Legacy: He wrote the book "Gita-Rahasya", a commentary on Srimad-Bhagavad-Gita. He claimed that the main message of the Gita was action. His two Indological Research works viz. 'Arctic home of the vedas' & 'Orion' are path-making. In 1916, Bal Gangadhar Tilak decided to build a separate organization called the 'Home Rule League'. Its goal was swaraj. Tilak went from village to village, and explained the aim of his league to the farmers and won their hearts. He travelled constantly in order to organize the people. While fighting for people's cause Lokmanya Bal Gangadhar Tilak died on August 1, 1920.