Contributions like articles, book reviews, book abstracts, etc. are welcome from Library Members, Bhavan's staff, and friends and supporters of the Library.
---
Festivals of India: Pateti
by Smt. Anjali Ambekar
---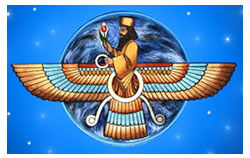 India is a multicultural and multi-religious country. We have people belonging to different castes and communities. Pateti is a festival of the Parsis and it is celebrated on the eve of New Year of the Zoroastrian calendar.
About Pateti
The word Pateti comes from patet, the Middle Persian word for repentance. The Zoroastrian tenets are based on the three ideals of Good thoughts, Good words and Good deeds. Anything that is out of accord with this is considered a sin. The Zoroastrian, or Parsi, community is the smallest major religious group in India. Take into account that the Parsis are a very close-knit group, and you have festivals that are celebrated almost strictly within the community, and confined to the homes, community centres and temples. On Pateti day the Parsis visit the fire temple or agiary. The Parsis on this day promise to live with good thoughts use good words and perform the right actions.
Festivals are ritual-oriented, and temple-worship, feasting and community interaction are central to them. So does munificence. Charity plays an important role in a Zoroastrian's life. During festivals or sacred days, the Zoroastrians are instructed to be especially generous and rededicate themselves to their pledge of justice and charity.
The Significance of Pateti
Pateti is therefore a day for a person to reflect on their thoughts, words and deeds of the previous year and to repent those that were not good. Struggle for good against Evil with Humata (good thoughts), Hukta (good words) and Havarshta (good deeds). The repentance allows dedicating the New Year to good thoughts words and deeds in a process of ethical growth.
Customs
It is also a day of showing appreciation to God for whatever blessing he bestowed on everyone. On this day all the members of the family, men, women or children, wake up early, bath and dress up in their new clothes. The entire house is cleaned and the boundaries and thresholds are decorated with colored powder. Incense sticks are lighted and sandalwood is sprinkled on burning coal which is generally kept in censors. All this not only is auspicious but also is meant to purify the air.
After breakfast all the family members go to the nearest Fire Temple or Agiary as it is called. In the temple a "JASHAN" - a thanks giving prayer is performed by the priest and each one of the assembled gathering offers sandalwood to the Holy Fire. As per the Parsi custom everyone has to cover their heads while praying inside the temple. Children put on cops of gold or silver brocade, men put on black velvet caps and the women pull their sari pallus over their heads. After the "Jashan" ceremony all people greet each other by saying "Sal Mubarak".
Home Threshold Decorations
The front door thresholds on Parsi homes are decorated with powdered chalk designs, often in the shape of a fish, with red powder placed for the eye of the fish. The designs are produced by stamping a tray containing the chalk and perforated with the design. Additional coloured powders like the red eye of a fish, are contained in individual compartments within the tray. Strings of flowers, especially tuberoses and marigolds, grace the top of the doorway.
Fragrances
Agarbatis, or incense sticks, are lit. The previous custom of burning sandalwood and incense in a censer and walking around the home and filing the air with a light smoke and fragrance, has been replaced by sprinkling sandalwood powder on glowing coals placed on the censer. Together with the fragrances imparted by flowers such as tuberoses and special dishes cooked for the occasion, Pateti celebrated in a Parsi has a special combination of associated fragrances.
Food
Preparing special foods and sharing them with family and friends, forms an integral part of the Pateti customs. For breakfast on the day of Navroz two special dishes are served. One is the "Ravo" made with Suji, milk and sugar and the other is fried vermiceli cooked in sugar syrup and sprinkled with raisins and lot of almond slivers.
Lunch and dinner dishes include pulao dal (rice and lentil sauce) - often plain rice and moong dal, sali boti (meat in sauce with fried potato stings placed on top), and patra-ni-machchi (fish prepared in leaves). Sweet eats include suterfeni (fine vermicelli swirls) and jalebi (an orange coloured deep fried, sugar syrup soaked batter, shaped like a large pretzel). Food plays a very important role as a significant part of all Parsi festivals. Parsi food is a delicious blend of West Indian and Indian cuisine.
Other Customs
Other customs include making charitable donations, sprinkling visitors with rose water as they enter a home, and watching a humorous satirical play about Parsi lives, where available, is also a part of the Pateti festival.